There's a certain random poetry in un-erased whiteboards.
I (Andrew) have long enjoyed admiring and puzzling over the remnants of others' brainstorming and scheming that linger in conference rooms, classrooms, and other natural marker board habitats. To celebrate these serendipitous finds, I'll post particularly interesting specimens along with my commentary here in a recurring series. We'll kick off the series with two of my favorites.
Enjoy!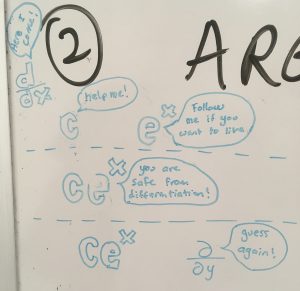 Location: Life Sciences Building (5th floor hallway), UCLA
Date: Unknown (but I once tried to erase this board to no avail, so I think it's safe to say it's been there a while)
Notes: Gotta love a math joke! Is this the work of an undergrad? A bored professor? A random passerby? It's difficult to ascertain much about the artist, though the fact that this marker board lacks a marker-holding tray suggests a certain level of preparedness and intentionality. The apparent antiquity of this work means the identity of its author is likely lost to time. Yet the message endures.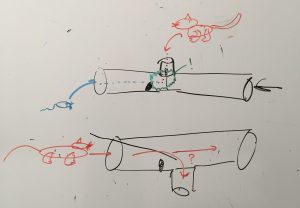 Location: Franz Hall, Garcia room, UCLA
Date: Circa February, 2020
Notes: A most compelling piece that rewards attempts to reconstruct its genesis. Is this an experiment someone was planning? An attempt to explore predator-prey interactions in some alien, tube-based environment? Are the crude, animal-like figures meant to represent actual living creatures, or does this depict a naturalistic scene in someone's imagined parallel universe? Perhaps those figures aren't meant to be animals at all; perhaps this is a pictorial metaphor for some molecular pathway? The artist leaves few clues to guide interpretation. As with the best work, this piece invites more questions than it answers.